Dolls for Sale
Please email me if you are interested in any of the dolls I have for sale! Please remember that legally I can only sell to those who are 18 years old or older. If you are younger than 18, please have an adult contact me to purchase the doll for you.
Please remember that these types of dolls are considered adult collectables, not toys. They are handmade and not federally tested and approved to be compliant with toy safety standards, thus not recommended for anyone under the age of 13. If you purchase one of my dolls for a child under 13 it is at your own risk. I cannot offer to repair any dolls used for play.
I can accept layaway for most dolls, but I cannot hold a baby or promise to sell to you without a deposit. In case of failure to complete the layaway, for all reborn babies the first $50 is non-refundable. There are no returns once you have received the doll.
My home is pet and smoke free! :)
Full Body Silicone Dolls
Ashton Drake Baby Dolls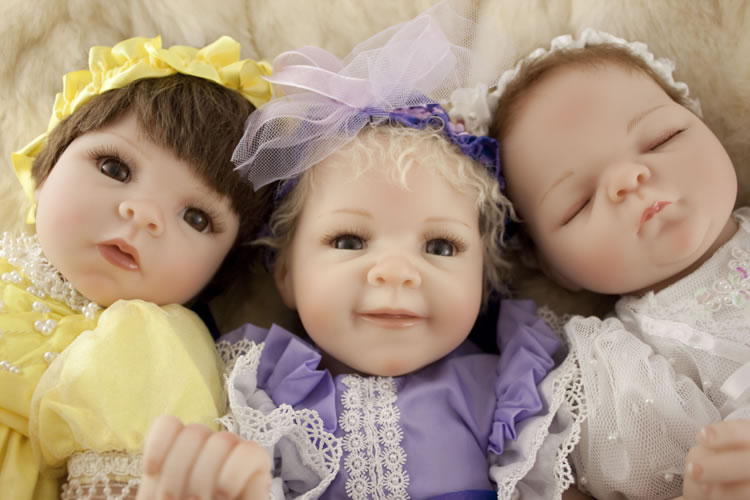 Vinyl Reborn Baby Dolls
Caleb - $350 plus shipping
Only $300 plus shipping! (please read description)
Introducing baby Caleb! Caleb was reborn from a vinyl Berenguer La Newborn doll. He measures 15.5" long and weighs about 3lbs, 8oz. Caleb wears preemie size clothing. He has completely full arms and legs. His head and limbs turn easily for posing. I painted Caleb with Genesis Heat Set Paints in a detailed newborn complexion complete with veins, blues, undertones, and mottling! Caleb's eyes are a dark newborn brown color acrylic eyes and he has fine newborn eyelashes. Caleb's nose, eyes, and nail tips have been glossed.
Caleb's hair was micro rooted by Kimiko Stallard with carrot red/auburn mohair from Joanna Gomes. The mohair is super fine and not pluggy! Kimiko did a wonderful job on his hair for me. Caleb's cloth body was stuffed with glass beads, poly pellets, and polyfil. His head flops just right when you pick him up, so you must support it just like a real baby's! He is such a cuddle bug, you will love him!
PLEASE NOTE: Baby Caleb has a bit of thinning hair on the back of his head and because of the way he is made it unfortunately can't be fixed. I have reduced his price by $50 to compensate. Because of this, I won't accept returns or repairs. Please see pictures of Caleb's hair in his photo album linked below:
Click HERE to see more pictures of Caleb!
Caleb will come home with the following:
His Le Top preemie fairytale sleeper
His hand knitted sweater
His stuffed toy bear
A variety of 3 magnetic pacifiers
A pair of socks
A cocoon style baby wrap
A Plumpie Rumpie diaper
A surprise outfit
Birth certificate and care instructions (please let me know if you would like to change the name on the certificate)
Please email me if you are interested in adopting Caleb!